It's Saturday 10:39 PM — Sorry, we're closed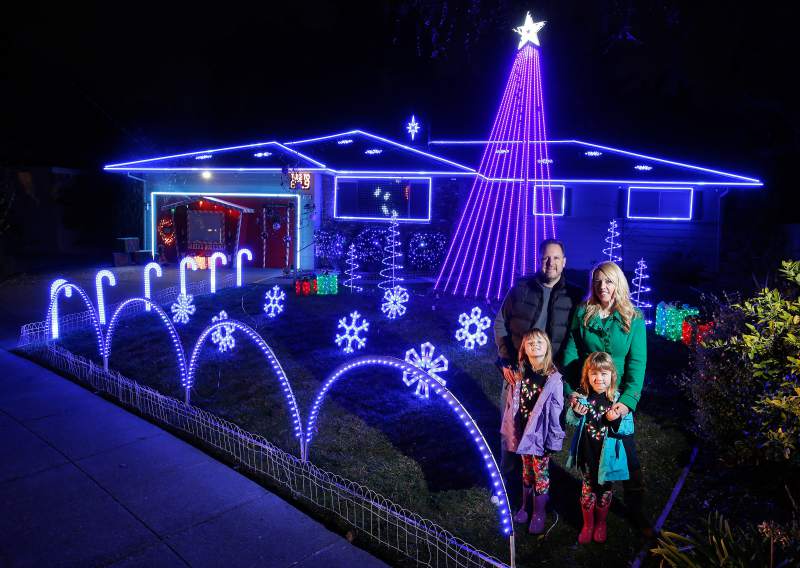 The Miller Family Christmas Lights Show
Working with 
Hearts for Happiness and The Miller Christmas Lights were able to raise $2000 during the 2019 holiday season thanks to all of your generous donations.  It has now been a year and that money has been put to use in various ways to help the community.
We hope you're all staying safe as we navigate the challenges of 2020! It's been a crazy year for all of us and we cannot wait to present our 2020 Christmas Light Show for all of you! Things will be a bit different this year…for multiple reasons. First, WE'VE MOVED! We're now at 5400 Santa Teresa Ave, still in Santa Rosa. Our show will be a bit smaller this year as we've not had much time to get set up at our new home, but we'll continue to improve each year…just as we've done in years past! Also, unfortunately, we will not be able to have snow or our charity nights this year as we focus on making sure everyone stays safe and healthy….but we'll be back next year and BIGGER than ever! We hope you all still get to come and visit!
As always, we'll be accepting donations to continue to do great things for the community and you can still contribute via PayPal using the "Donate Now" button below or send us a message via our contact page and email to [email protected] or [email protected].  Thank you for taking such good care of each other and please stay tuned as we'll be doing more to help throughout the upcoming holiday season!
Hearts for Happiness is a non-profit organization committed to spreading happiness through random acts of kindness in our community and beyond. Started as a 6th grade community service project here in Santa Rosa, their mission is to spread positivity and joy throughout the year!
Listen to our lights on 94.3 FM
2020 Show Schedule and Fundraiser Nights
Friday, December 4th thru Sunday, January 3rd
Every Day
5:00PM to 9:00PM
***Unfortunately, there will not be any snow or charity nights this year as we want to keep everyone safe! We look forward to having it all back and bigger than ever next year! We hope you all have a safe and happy holiday season and we hope you still come out to see our show at our new location!***
Snow approximately every 10 minutes
Come out for one of our Hearts for Happiness fundraiser nights, schedule below, to see Santa, get your face painted, and enjoy Cookies, Hot Chocolate and Fresh Popcorn…All Free!
Saturday December XX and XX from 6:00PM to 9:00PM
Check out our NEW Location!!!
5400 Santa Teresa Ave., Santa Rosa, CA 95409

Please be safe and courteous
While watching the light show we ask that you think of safety first and the experience of others.
Please abide by our light show etiquette checklist:
Keep the street and driveways clear

Use your parking lights

Keep your radio volume at a reasonable level
The Miller Family would like to wish everyone a Happy Holiday Season!  Thank you for taking the time to visit our site!